Facebook Pushes Online Ads, Then Spends Its Cash on Billboards
Still not convinced billboards work? Check out this recent article from Bloomberg:
Silicon Valley's going old school.
As tech companies like Facebook Inc. and Google vacuum up billions of dollars in online advertising, they're pouring their own marketing dollars into billboards and other forms of outdoor signage. That's driving growth in one of the oldest forms of marketing and is one reason why the category is the only traditional channel expected to grow this year.
Facebook recently ran an outdoor campaign to promote its new approach to user safety and privacy. Music-streaming pioneer Spotify Technology SA teamed up with the Brooklyn Museum to honor music icon David Bowie in subway advertising. And semiconductor maker Intel Corp. hyped its artificial-intelligence technology that's used to help find criminals in a crowd. "Tech companies have become massive spenders of outdoor advertising but in specific ways," Vincent Letang, executive vice president of global market intelligence at research firm Magna, said in a phone interview. "Bus stops, train stations and airports are good places for these companies to reach an active workforce and to generate social buzz."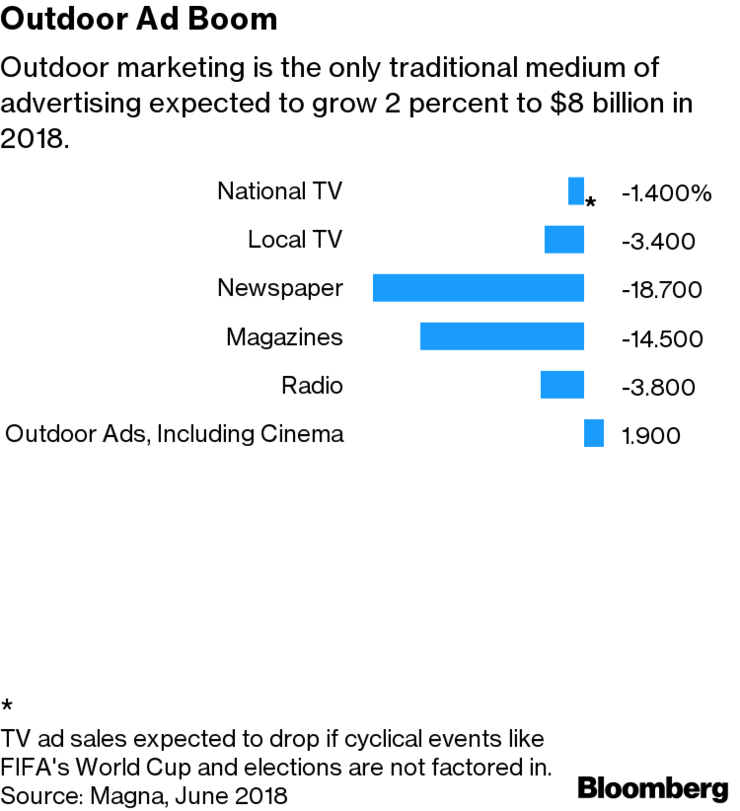 Apple Inc., Google and Amazon.com Inc. ranked among the top six spenders on out-of-home advertising last year, and Netflix Inc. made it into the top 15, according to the Outdoor Advertising Association of America. The category includes traditional roadside billboards, plus digital signs at bus-stops and train stations, as well as signs mounted in stadiums and arenas.
Revenue from out-of-home advertising is forecast to expand 2 percent this year to $8 billion, up from 1 percent in 2017, Magna said in a June report. The ads have come a long way since the hand-painted billboards of the 1900s. Today, digital displays can rotate images every 10 seconds or so, providing wider exposure to a broader range of products. What's more, they're still one of the most cost-effective ways to reach consumers, said James Goss, an analyst at Barrington Research Associates Inc. "A billboard is a display that is difficult to ignore," he said. Alex Bodman, Spotify's global executive creative director, said he was stunned by the number of social-media shares that the Bowie campaign racked up. The campaign in June won a gold award in the Cannes Outdoor Lions category, which celebrates creative outdoor campaigns featuring partnerships, people and storytelling. "If you do any outdoor campaign in a unique and creative way, all the people connected on their mobile phones will want to share it on social media," he said. "Outdoor advertising can become social media." Until recently, it's been much easier to collect and analyze data for online advertisements, giving the medium a clear advantage over outdoor campaigns. But that's beginning to change. Clear Channel Outdoor Holdings Inc., which has more than 1,200 digital roadside billboards across 28 U.S. markets, said it's now using mobile data from a third-party provider to detect which phones pass in front of its billboards. That's helping to make the case that physical ads in public spaces still work. "Things that people can physically see and touch are much more believable," said Chris Garbutt, global chief creative officer for ad agency TBWA, which works with top tech companies including Apple and Intel. "It makes sense for these tech companies to use outdoor advertising."
Check out the original Bloomberg article here: https://www-bloomberg-com.cdn.ampproject.org/c/s/www.bloomberg.com/amp/news/articles/2018-08-06/big-tech-is-spending-big-in-a-decidedly-old-school-way